Last Updated on 19/02/2018 by Admin
Saturday Microsuction Clinic In London Update!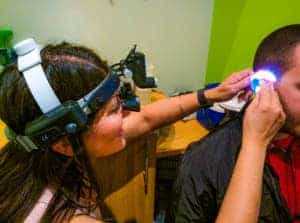 At The Central London Microsuction Earwax Removal Clinic, we are excited to announce that we offer a Saturday microsuction clinic at our Baker Street branch. Raspal Kaur, an experienced Audiologist who was trained in microsuction at Rotherham Primary Ear Care Centre, and also advanced microsuction techniques under Mr Stephen Rejali, a Consultant ENT Surgeon, has joined us. Raspal has extensive experience in the microsuction procedure. She practises at our clinic on Saturdays and every other Thursday.
If you need ear wax removal this weekend, you can book online by clicking the button below, or by following this link: book microsuction in london on Saturday.
We offer a £5 discount for people who self-book online. However, we can also book you in by telephone on 0800 1 337 987.
Weekend Microsuction Clinic Price
If you book online, we offer a £5 discount bringing the price down to £80 for one or two ears, which is still great value compared to other clinics in Central London.
Microsuction Saturday
Microsuction In London On Saturday Price List
Online Booking
Telephone Booking
£80
£85
We decided to extend our microsuction clinic to Saturdays, as many people have enquired with us about weekend microsuction appointments as they work Monday to Friday and are unable to attend an ear wax removal appointment during the week. The addition of a weekend ear wax removal clinic is a service that we are very happy to offer people who live and work in Central London, as well as people who like to come in to London at the weekend.
Saturday Microsuction Clinic London Location
Our clinic is inside Berkeley Court Pharmacy on Melcombe Street. If you're not familiar with the Baker Street area, Melcombe Street runs between Baker Street and Marylebone stations. It's about a one minute walk from Baker Street Underground station, or 4 minutes walk from Marylebone station.
We recommend that in order to maximise the likelihood that we can remove all the wax, and to make the procedure more comfortable, you should use Earol twice a day in each ear for at least two days prior to your appointment. You can get Earol for around £5 from most chemists.
Note that we do not recommend the use of Otex, as this contains peroxide, which can cause irritation of the ear canal, and as a consequence the microsuction procedure may be less comfortable for you.
You can find more information about our Central London microsuction clinic here. The page includes directions on how to get there, as well as the address, contact details, nearest tube stations and where to park.