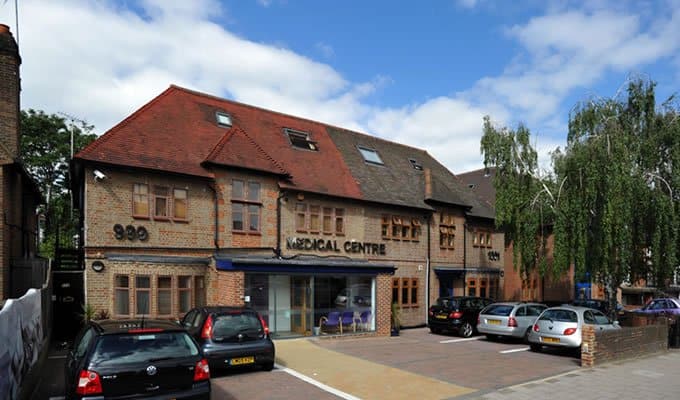 London NW11 - Providing Microsuction Ear Wax Removal In Golders Green North London
Our London NW11 Private Microsuction Ear wax Removal Clinic in Golders Green North London can be found:
999 Finchley Road
999 Medical Centre,
London
NW11 7HB
You will find us next door to the InHealth Diagnostic Centre. The surgery is about 8 minutes walk from Golders Green station. Our clinic is in one of the comfortable medical consulting rooms located on the ground floor. There is level access from the street.
Please note that treatment is by appointment only. NB Our colleagues at the location are unable to take messages or book appointments.
Due to new Covid-19 guidance from our professional body, records must be kept of the triage of all patients prior to booking, and their consent to treatment after booking. In order to comply with this guidance, we have adapted our booking system to incorporate these forms. Please
click here to make your booking
and have your credit or debit card to hand. If you are unable to use our self-service online booking system, you can take advantage of our "done for you" service and
call us on 0800 1 337 987
instead.
Appointment Booking
Due to high demand, private ear wax removal is by appointment only. You can book an ear microsuction appointment here, or click on the Book Now button below:
Video: What Happens In An Ear Wax Removal Appointment
Saturday Microsuction Appointments
Private ear wax removal in London on Saturday
 is available at our out of hours clinic in Baker Street NW1 from 10am until 5pm.We also run a Saturday microsuction ear wax removal clinic in Oxford typically once a month.Please try to book by 5.30pm on Friday evening, as Saturday microsuction appointments are very popular. You can book online on the day as we sometimes have same day ear wax removal appointments available.
Book online now
to reserve your private microsuction appointment in one of our Saturday clinics.
Parking
There is usually off-street parking available outside the practice, or next door at the InHealth Diagnostic Centre at 1001 Finchley Road. There is free on-street parking, but please be careful to read the signs carefully as parking restrictions operate at various times during the day.
London NW11 Microsuction In Golders Green North London Map, Location and Directions
You can find our North London Microsuction Clinic in Golders Green on Google Maps here.
You can get directions to our North London Microsuction Clinic in Golders Green here.
Nearby Clinics
In North London N2, we have our East Finchley Microsuction Ear Wax Removal Clinic in North London N2.
In North London NW7, we have our Mill Hill Microsuction Ear Wax Removal Clinic In North West London NW7.
Our microsuction ear wax removal clinic in Golders Green also serves clients in London, Hendon, North London, Finchley, Highgate, Hampstead Garden Suburb, Cricklewood, Mill Hill, Edgware, Hamptstead, Dollis Hill, Whetstone, Brent Cross, West Hampstead, Woodside Park, Crouch End, Finsbury Park, Arnos Grove, Palmers Green, Harrow, Tuffnell Park, Fortune Green, Gospel Oak, Wood Green, Harringay, Stanmore, Wembley, Barnet, and Bushey.
About London NW11
Golders Green is an area in the North London Borough of Barnet in England. Although the settlement history goes back to the 18th century, Golders Green is essentially a late 19th-century suburban development. It is situated approximately 5.5 miles (8.5 km) north west of Charing Cross and centred on the intersection of Golders Green Road and Finchley Road.
It was historically part of Middlesex, and formed part of the Municipal Borough of Hendon until 1965. In the early 20th century it grew rapidly in response to the opening of a tube station of the London Underground, adjacent to the Golders Green Hippodrome which was home to the BBC Concert Orchestra for many years. The area has a wide variety of housing and a busy main shopping street, Golders Green Road.
The name Golders comes from a family named Godyere who lived in the area, and Green alludes to the manorial waste on which the settlement was built. Golders Green has been a place in the parish and manor of Hendon since around the 13th century. The earliest references to the name of the adjacent district of "Temple Fortune" is on a map (c. 1754). However this name reveals a much earlier history. It is likely that the name refers to the Knights of St John, who had land here.
Things To Do In London NW11
Golders Hill Park, adjoining the West Heath of Hampstead Heath, is a formal park, which includes a small zoo, a walled horticultural garden, pinetum, duckponds, a water garden and a café. During the summer, children's activities are organised and there is often live music on the bandstand. Close to the park, also adjoining the West Heath is the Hill, a formal garden with an extensive and imposing pergola.
Microsuction vs. Ear Syringing
Many people in London NW11 are finding that their local GP surgery no longer offers ear syringing. No doubt this is partly due to a lack of funding, but also because ear syringing is inherently less safe than ear micro suction. Possible side effects of ear syringing or irrigation are ear infection, hearing loss, tinnitus, perforation of the ear drum, and further impaction of the ear wax (i.e. the ear wax gets pushed even harder against the ear drum). Is it any wonder that people are going off walk in ear syringing in North London and are seeking out same day microsuction ear wax removal instead? Unfortunately, the sharp rise in demand has meant that NHS micro suction clinics are now unable to meet the need and waiting times are often over two to three months.
You no longer need to wait months for micro suction. Why not save time by going private? It's not as expensive as you think. Simply head to our booking page and you could be saying goodbye to your wax blockage this week!
London NW11 Micro Suction Clinic Prices
WE REGRET THAT DUE TO COVID-19 OUR PRICES HAVE GONE UP. IN ADDITION TO THE HIGH COST OF PPE, WE MUST NOW SET ASIDE AN ADDITIONAL MINIMUM OF 50% OF THE APPOINTMENT TIME TO DOFF AND DON PPE AND DECONTAMINATE SURFACES IN THE ROOM. WE HOPE YOU UNDERSTAND THAT THESE ADDITIONAL MEASURES ARE FOR YOUR SAFETY.
One or Both
Normal Price
Online Discount
Online Price
One ear (or wax too impacted / no wax)**
See our new online booking system for prices and times
Both ears (or wax too impacted / no wax)**
See our new online booking system for prices and times
Upgrade from one to both ears
Upgrade from one to both ears no longer available due to strict guidelines on appointment times
**Consultation only (no wax present / wax too impacted)
If no wax is present, we will provide a complementary hearing test at a later date after the Covid-19 Pandemic

36 hours notice required for alterations and cancellations or NO refund will be given.

Non-attendance is charged at the full price.

Thank you.
PLEASE NOTE THAT DUE TO NEW COVID-19 GUIDELINES AND THE ADDITIONAL MEASURES REQUIRED FOR HOME VISITS, WE ARE IN THE PROCESS OF IMPLEMENTING THIS SERVICE. IF YOU ARE SUFFICIENTLY MOBILE TO ATTEND ONE OF OUR CLINIC LOCATIONS, PLEASE DO SO AS WE CANNOT GIVE A FIRM DATE FOR WHEN OUR HOME VISIT SERVICE WILL RECOMMENCE
Home Visit Prices
We also perform ear wax removal in your home, care home or nursing home. If you cannot come to us, we will come to you. Due to the additional time and travel costs, the price is higher than a clinic appointment.Home Visit (one or both ears): £195
Home visit, multiple patients discount
For multiple patients at the same address, we offer a discount on the second and subsequent patients as less travelling is involved. Please book well in advance.Additional patients: £145
Find your nearest clinic:
Follow the link to find the nearest Microsuction Ear Wax Removal Clinic to you.