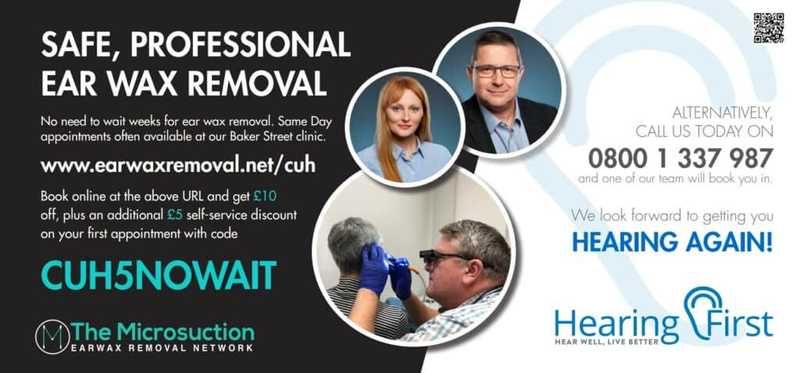 Welcome, To All Addenbrooke's Patients
Thank you for visiting our website. Our 3 clinics in Cambridge are just minutes away, and we will do our utmost to help you with your ear problem. To book an appointment, you need to go through a quick 1-minute triage process and then all of our available appointments will be shown to you. You can often book an appointment the same day at one of our clinics located in Central Cambridge near the railway station, Hauxton and Trumpington.
Click the button to be taken to our booking system and book your appointment.
What To Expect At Our Earwax Clinic
How To Prepare Your Ears For Microsuction Ear Wax Removal
You should use three squirts of Earol sterile pharmacy-grade spray in each ear that is to be treated, three times a day for at least two days before your appointment. Earol is available from supermarkets such as Tesco and ASDA in the ear section of the medicines aisle, which is usually next to the cough and colds section.
If you have confirmed impacted wax, then you need to use Waxsol for two days before your appointment. Waxsol is a Pharmacy only medication. Please follow the instructions on the leaflet.
Softening your ear wax blockage dramatically reduces the risk of complications such as dizziness, discomfort, or scratches caused by hard wax as it comes out of your ear.
Urgent Ear Wax Removal
If you need urgent ear wax removal, we will do our best to help, but if you haven't softened your ear wax the procedure may be quite painful, and you may experience the complications listed above. Talk to your doctor or pharmacist about pain relief.