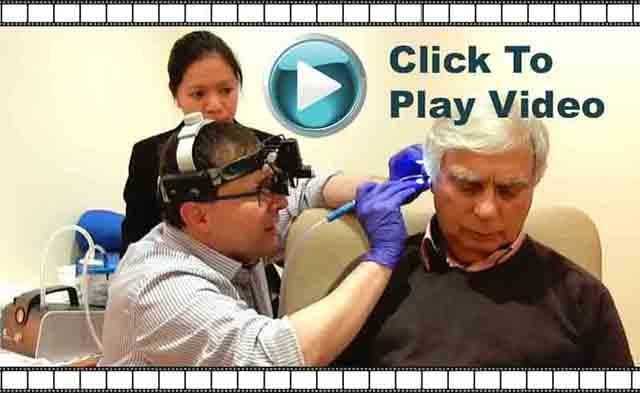 We have taken stringent steps to protect both you and our staff. For more information
click here
.
Borehamwood: Providing Microsuction Ear Wax Removal Borehamwood Herts WD6
What Is Microsuction?
At The Microsuction Network, we
NEVER
syringe or irrigate!Simply put, microsuction is the removal of ear wax from the ear canal using illuminating microscopes and gentle medical suction. At our clinics we use ENT-grade suction units and portable convergent microscopes, as well as disposable, sterile suction tips. Microsuction is considered the safest method of ear wax removal, and our training and experience ensure you will have a very safe procedure.When the ear wax is very tough, or if there is a foreign body in the ear canal, such as a cotton bud tip, or an ear plug which has become stuck, we may use instruments, which are specially designed for removing ear wax and other objects from the ear canal. All of our staff are trained and experienced at using instruments. You may also see instrument removal also called "curettage" or "aural toilet", but we think "instrument removal" sounds nicer.
Why Don't We Irrigate (Syringe)?
Irrigation uses a high pressure water jet to dislodge the wax from your ear. It's like a mini jet wash, and has been known to rupture the ear drum and cause facial paralysis. The electronic ear irrigator has largely replaced the more old fashioned ear syringe, but it still has the same basic problem that it uses a pushing force and can push hardened wax further into your ear. More commonly, if the procedure does not completely remove your wax blockage, wax and water can be trapped in the ear and lead to a painful ear infection.Microsuction needs a higher level of training than irrigation, a good eye and a steady hand. Some clinics
say
they do microsuction, but use inferior methods and equipment and when the wax is deep in the ear they give up and irrigate. It does not matter who is operating an ear irrigator, it still carries the same inherent risk. So at the Microsuction Earwax Removal Network, we
never
irrigate. We will
only
use microsuction or manual instruments to remove your ear wax blockage.
If you are looking for great value private ear wax removal in Borehamwood, our Borehamwood Micro Suction Ear wax Removal Clinic can be found within Gilberts Pharmacy at:
121 High Street
Health Matters London,
London
EN5 5UZ
Our prices (see below) are the best value in Hertfordshire!
You will find us on Shenley Road. We're about 4 shops down on the left hand side from the pedestrian walkthrough from Borehamwood Shopping Park to Shenley Road.
Please note that ear wax removal is by appointment only.
NB Our colleagues at the location are unable to take messages or book appointments.
Please
call us on 0800 1 337 987
, or
book online
.Due to Covid-19 guidance from our professional body, records must be kept of the triage and consent of all patients. In order to comply with this guidance, we have adapted our booking system to incorporate a triage and consent form - after booking please check your email for details on how to complete the form as otherwise we cannot provide treatment. Please
click here to make your booking
and have your credit or debit card to hand.If you are unable to use our self-service online booking system, you can take advantage of our "done for you" service and
call us on 0800 1 337 987
instead.
You can find our private ear wax removal Borehamwood location here.
You can get directions to private ear wax removal Borehamwood from Google Maps here.
Nearby Microsuction Clinics include:
Appointment Booking
Due to high demand, microsuction ear wax removal in Barnet is strictly by appointment.
You can book a microsuction appointment in Barnet online here, or click on the Book Now button below.
Saturday Microsuction Appointments
Private ear wax removal London on Saturday
 is available at our out of hours clinic in Baker Street NW1 from 10am until 5pm.We also run a Saturday microsuction ear wax removal clinic in Oxford typically once a month.Please try to book by 5.30pm on Friday evening, as Saturday microsuction appointments are very popular. You can book online on the day as we sometimes have same day ear wax removal appointments available.
Book online now
to reserve your private microsuction appointment in one of our Saturday clinics.
Parking
The best place to park is in the Borehamwood Shopping Park car park, and then it will take a few minutes to walk through the car park to Shenley Road. From the shopping centre pedestrian entrance, turn left and we are about 4 shops down. Parking is limited to 2 hours.
Alternatively, you can park in the Reel Cinema car park, where parking costs £1 per hour, or £5.50 all day.
Ear Wax Removal Borehamwood Herts WD6 Map and Directions
Our private ear wax removal clinic in Borehamwood also serves clients in , Well End, Elstree, Aldenham, Radlett, Bushey, Stanmore, Shenley, Edgware, Arkley, Barnet, Edgware, Totteridge, Whetstone, Potters Bar, South Mimms, Hadley Wood, Cockfosters, High Barnet, Chipping Barnet, East Barnet, and South Barnet.
Borehamwood Microsuction Prices - BEST VALUE IN HERTFORDSHIRE
WE HAVE ENDEAVOURED TO KEEP OUR PRICES LOW, WHILST IMPLEMENTING GOLD STANDARD COVID-SECURE MEASURES. PRICES DISPLAYED IN OUR BOOKING SYSTEM ARE AUTOMATICALLY CALCULATED AND INCLUDE ALL APPLICABLE DISCOUNTS.
One or Both
Online Price (including £10 self-service discount)
One ear (or wax too impacted / no wax)**
From £44, or Hear Now, Pay Later* from around £8/week
Both ears (or wax too impacted / no wax)**
From £59, or Hear Now, Pay Later* from around £10.50/week
Upgrade from one to both ears
Upgrade from one to both ears not available due to strict covid-secure guidelines on appointment times
*Hear Now, Pay Later
It can sometimes be difficult to budget for unexpected health costs. That's why we have teamed up with Laybuy to give the option of spreading our booking fee over 6 weeks.
**Consultation only (no wax present)
If no wax is present, we will provide ear care advice and/or a complementary hearing test (possibly at a later date), whichever our clinician deems appropriate
**Consultation only (wax too impacted)
If wax is too impacted, our clinician will remove as much as they consider is safe, and provide advice on an appropriate wax softening regime

36 hours notice required for alterations and cancellations or NO refund will be given.

Non-attendance is charged at the full price.

Thank you.
How Prices Are Calculated
| Price Adjustment | Adjustment Amount (+/-) |
| --- | --- |
| Online Self-Service Discount | - £10 |
| Advance Booking (8 - 14 days) | - £5 |
| Advance Booking (15 days or more) | - £10 |
| Off Peak (Normally before 12:00pm) | - £5 |
| Local Promotional Discount | - £Varies by location - See Booking System |
| Peak (5:00pm - 6:00pm) | + £10 |
| Peak (6:00pm onwards) | + £20 |
| Saturday | + £10 |
| *Hear Now, Pay Later | Total discount reduced by £4 |
Interesting Facts About Borehamwood
Borehamwood is a growing town just inside the M25 in South Hertfordshire, and is an increasingly popular choice of residence for families and city professionals alike. Although only 25 minutes from King's Cross St Pancras by train, this south Hertfordshire town has a suburban atmosphere with quiet residential streets. Coming south on the A1, you know you're approaching Borehanwood when you go past the Dinosaur Safari Adventure Golf on your left. As you turn off the A1, you can either go in to the Adventure Golf (which is strictly in Arkley), turn off towards Barnet, or continue on to Borehamwood.
If you continue to the next exit, you will see Morrisons on your right, and on your left Shell Stirling Corner and Miller & Carter steak pub. If you turn left here you will be heading through Arkley to Barnet, and if you turn right you will head in towards Borehamwood. Go straight on, and in about 15 minutes you'll be in Edgware.
Probably the most famous landmark in Borehamwood is Elstree Studios, which surprisingly isn't in Elstree - it's in Borehamwood! Elstree Studios is right next to the Tesco Extra Borehamwood, and is home to many well-known British shows, including Eastenders, Holby City, Big Brother, Celebrity Juice and Who Wants To Be A Millionaire. Many famous movies have been filmed at Elstree Studios, including The Shining, Indiana Jones, Superman and Labyrinth . If you are lucky, you might catch one of the TV or film stars popping in to the nearby Starbucks in between filming scenes.
Borehamwood has much to offer people of all ages. There are a number of excellent primary and secondary schools in and around the town, including Cowley Hill School and Woodlands Hill Primary School, both of which have received good Ofsted reports. Nearby Aldenham Country Park provides plenty of green space for families to enjoy, and the town centre has several high street shops, restaurants and bars, and a small retail park known as The Boulevard.
Places To See In Borehamwood
Borehamwood also has a local theatre, cinema, several gyms, a swimming pool, and a soft-play centre for children.
One major attraction in Borehamwood is the Elstree and Borehamwood Museum, which shares the history and legacy of almost 100 years of film and television in Borehamwood and Elstree.
For an entertaining evening out, visit the Ark Theatre which puts on a range of work from touring production companies and local community groups; acts including drama, tribute bands, dance, and comedy.
Fans of retail therapy can enjoy Borehamwood Shopping Park, which offers a vast range of retail stores, coffee shops and restaurants.
Why Do We Have Ear Wax?
Ear wax (medical name cerumen) is made by specialised glands in the outer two thirds of the ear canal. It helps protect the ear by moisturising the skin in the ear canal, providing a physical barrier against infection, and by being acidic it has antibacterial properties. Because it is sticky, it helps to catch dust, pollen and small insects and prevent them from establishing themselves in your ears! The skin in your ear canal grows differently to the skin that covers the rest of our body, and grows along the ear canal from the ear drum to the canal entrance. It acts like a conveyor belt, bringing the earwax, and any dust, pollen or other debris with it, out of the ear. This way, the ear canal cleans itself naturally.
Why Do Ear Wax Blockages Happen?
Typically, ear wax blocks the ear canal and becomes impacted when it is pushed back against the outward movement that is part of the natural cleaning process. This can be done using cotton buds, matchsticks, paper clips, rolled up tissue, and hair pins amongst other objects, but legitimate items such as ear plugs and hearing aids can also cause ear wax buildup. Other causes of ear wax impaction can be narrow or winding ear canals, excessive, excessively dry or excessively sticky ear wax production. Everybody has an S bend in their ear canals - this is to reduce the chance of twigs and other objects from perforating the ear drum. However, earwax can build up on very sharp bends in the canal. Where the ear canal is very narrow, there is less space for ear wax to accumulate, and this can lead to frequent ear wax blockages. Excessive, sticky, or dry ear wax production can also lead to impacted earwax. The most obvious symptom of a blocked ear is a partial or total loss of hearing, but other symptoms can include pain, itching, a feeling of fullness, or hissing, whooshing, buzzing or ringing sounds.
How To Get Rid Of Ear Wax
Unfortunately, the size and shape of your ear canal, as well as the amount and type of ear wax is genetically determined. In order to reduce ear wax build up we recommend applying one squirt of Earol (a sterile, sealed olive oil spray) into each ear twice a week. Because Earol is a manual pump spray, it needs to be primed by squirting a few times before use. We recommend that you prime it over a sink until you see a squirt of oil come out. If you have a blocked ear, we recommend you apply two squirts of Earol twice or three times a day for three or four days and then attend one of our expert microsuction ear wax removal clinics. You can book an appointment at our microsuction ear wax removal clinic near you
here
. Please don't put cotton wool in after applying Earol, as it will just absorb the olive oil and stop it from doing its work. We don't recommend self-syringing as this can push the ear wax further into your ear. We particularly recommend you avoid ear candles, as these do not remove ear wax and can potentially cause serious problems. We have an article on ear candles and their pitfalls
here
.If you'd like to read about the various methods of ear wax removal, including syringing and microsuction, we have an article on different ear wax removal methods
here
.
If You Wear Hearing Aids
If you wear hearing aids, to prevent oil and wax from blocking up your hearing aids, just apply the Earol at night, and then wipe out the entrance of your ear canal with a tissue in the morning before you put your hearing aids in. You'll ideally need to use Earol for five to eight days before your microsuction appointment.
Best Value Ear Wax Removal In The UK
So, after reading the above if you have wax in your ear and would like it removed safely without any water being syringed or jetted into your ear, you may want to choose to have your ear wax microsuctioned.We provide the best value ear wax microsuction service in the UK, provided by HCPC-registered Audiologists and NMC-registered nurses. We take payment for the appointment up front - we are sorry that we have to do this, but many patients have booked and not turned up, which is frustrating for other patients who cannot get an appointment.Our Audiologist will inspect your ears using an ENT-grade Vorotek O-Scope or an otoscope to determine whether your ear canals are full of wax and if microsuction is therefore necessary.If there is no ear wax, we will give you advice and/or a hearing test as appropriate.If there is ear wax, we will remove the it expertly using a low power medical suction unit with a tiny, sterile 2 mm suction tube on the end. This is so gentle, it feels like barely even a kiss on the cheek. Sometimes, despite applying Earol for several days, the ear wax is too stubborn to be removed by microsuction, so we may use special disposable instruments, such as a Jobson Horne Probe, or a St Barts or Rosen Cerumen Hook. Whatever method we use, you safety is our top priority at all times. If you would like to book a microsuction ear wax removal appointment,
click here
.We never use a Propulse Ear Irrigator, which has now largely replaced the ear syringe, as according to the British Medical Journal (
article here
) irrigation or syringing is associated with a high risk of complications, such as failure of wax removal or further impaction of the wax, ear infection, trauma to the ear canal, or perforation of the ear drum. Other complications of syringing that have been reported are pain, tinnitus, vertigo (dizziness), and loss of balance or hearing.