Endoscopic Ear Wax Microsuction
Endoscopic microsuction ear wax removal @microsuction Demonstration of foreign object removal from ear using oto-endoscope and crocodile forceps. pic.twitter.com/gUv0exdyty

— Microsuction Ear Wax Removal Network (@microsuction) 18 June 2016
The Microsuction Ear Wax Removal Network were the first clinics in London to be able to offer endoscopic ear wax microsuction and private endoscopic ear wax removal using instruments by request at selected locations.
After a thorough evaluation by three of our most experienced practitioners, we have concluded that performing microsuction endoscopically significantly complicates the microsuction procedure, compromises safety because the image is 2D and provides no depth perception, and causes fatigue because of the weight of the endoscope. In addition, with a narrow ear canal, the 2.8mm endoscope and 2mm suction tube have a tendency to "chopstick" and flip past each other. In contrast, the Vorotek O-Scope portable ENT microscopes that we use allow depth perception all the way up to the ear drum, and therefore greatly improve the safety of the procedure when compared to an endoscope or loupes.
Ear wax removal using instruments is particularly suitable for clients with severe tinnitus and/or noise sensitivity, where microsuction may not be appropriate due to the noise levels. The instruments used are the St Barts wax hook, the Jobson Horne probe, and crocodile forceps (due to the high cost of the crocodile forceps, an additional charge of £10 is applied if its use is required).
Where there is a foreign object in the ear canal, it may also be necessary to use instrumentation, especially the crocodile forceps.
How Can I Book An Ear Wax Microsuction Appointment?
Cllick on the "Book Now" button below, or click on the link to the booking page.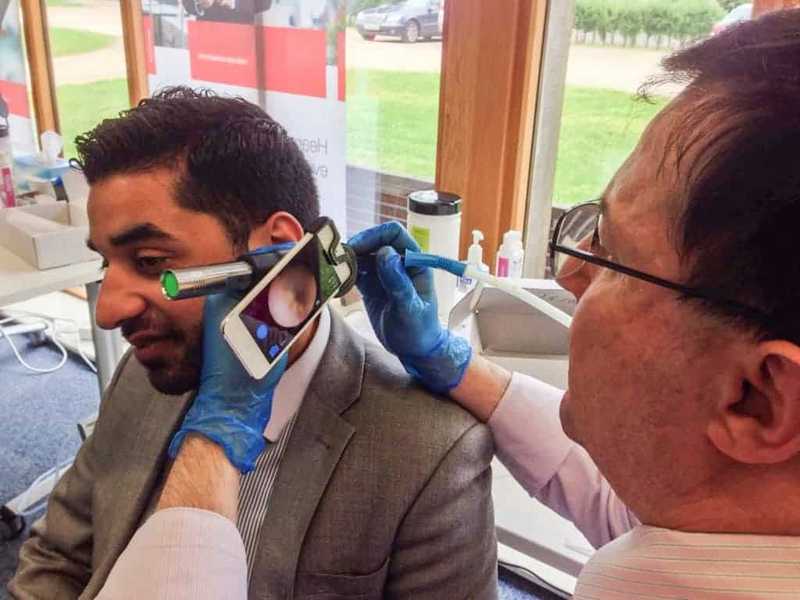 If you're in London, you can find out where you can get private ear wax removal by heading to our page on Private Ear Wax Removal In London.
For other locations, we list our private ear wax removal clinics here.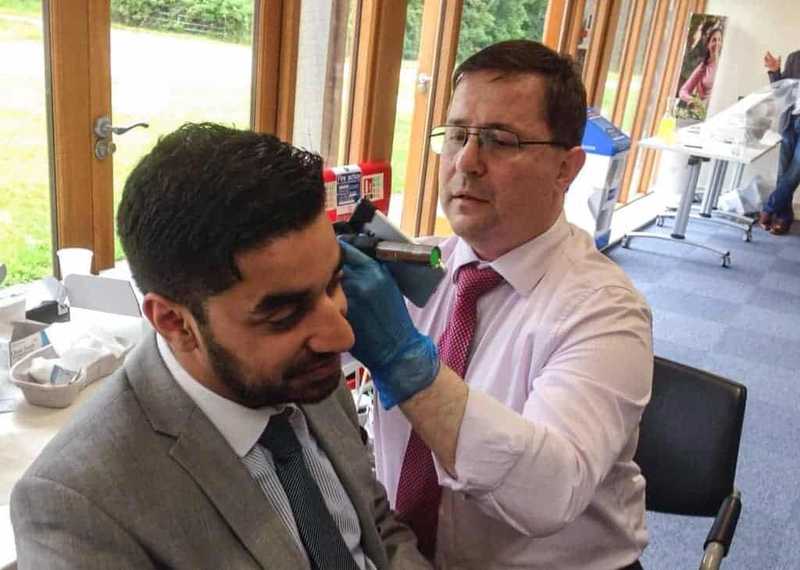 Please note that ear wax removal is by appointment only.
NB Our colleagues at the location are unable to take messages or book appointments.
Please
call us on 0800 1 337 987
, or
book online
.Due to Covid-19 guidance from our professional body, records must be kept of the triage and consent of all patients. In order to comply with this guidance, we have adapted our booking system to incorporate a triage and consent form - after booking please check your email for details on how to complete the form as otherwise we cannot provide treatment. Please
click here to make your booking
and have your credit or debit card to hand.If you are unable to use our self-service online booking system, you can take advantage of our "done for you" service and
call us on 0800 1 337 987
instead.