Ealing: Microsuction Ear Wax Removal Ealing In London W5
Ear Wax Removal Ealing: We are Audiologists who specialise in unblocking ears, so if you have an ear wax problem, come to our ear wax removal Ealing clinic. We are the local ear wax removal experts in West London!
We have taken stringent steps to protect both you and our staff. For more information
click here
.
What Is Microsuction?
At The Microsuction Network, we
NEVER
syringe or irrigate!Simply put, microsuction is the removal of ear wax from the ear canal using illuminating microscopes and gentle medical suction. At our clinics we use ENT-grade suction units and portable convergent microscopes, as well as disposable, sterile suction tips. Microsuction is considered the safest method of ear wax removal, and our training and experience ensure you will have a very safe procedure.When the ear wax is very tough, or if there is a foreign body in the ear canal, such as a cotton bud tip, or an ear plug which has become stuck, we may use instruments, which are specially designed for removing ear wax and other objects from the ear canal. All of our staff are trained and experienced at using instruments. You may also see instrument removal also called "curettage" or "aural toilet", but we think "instrument removal" sounds nicer.
Why Don't We Irrigate (Syringe)?
Irrigation uses a high pressure water jet to dislodge the wax from your ear. It's like a mini jet wash, and has been known to rupture the ear drum and cause facial paralysis. The electronic ear irrigator has largely replaced the more old fashioned ear syringe, but it still has the same basic problem that it uses a pushing force and can push hardened wax further into your ear. More commonly, if the procedure does not completely remove your wax blockage, wax and water can be trapped in the ear and lead to a painful ear infection.Microsuction needs a higher level of training than irrigation, a good eye and a steady hand. Some clinics
say
they do microsuction, but use inferior methods and equipment and when the wax is deep in the ear they give up and irrigate. It does not matter who is operating an ear irrigator, it still carries the same inherent risk. So at the Microsuction Earwax Removal Network, we
never
irrigate. We will
only
use microsuction or manual instruments to remove your ear wax blockage.
Our Microsuction Clinic providing Ear Wax Removal Ealing in London W5 can be found at:
44 Pitshanger Lane
Pitshanger Osteopathic Practice,
London
W5 1QY
Phone:

0800 133 7987
Professional ear wax removal in Ealing. If you have a blocked ear, come to our ear wax removal Ealing clinic. We really are the ear wax removal experts in West London.
You will find us in the Pitshanger Lane shopping area near the junction of Pitshanger Lane and Curzon Road. Next door on one side is Trustcos Grocers and on the other is Lisa's Restaurant.
Please note that ear wax removal is by appointment only.
NB Our colleagues at the location are unable to take messages or book appointments.
Please
call us on 0800 1 337 987
, or
book online
.Due to Covid-19 guidance from our professional body, records must be kept of the triage and consent of all patients. In order to comply with this guidance, we have adapted our booking system to incorporate a triage and consent form - after booking please check your email for details on how to complete the form as otherwise we cannot provide treatment. Please
click here to make your booking
and have your credit or debit card to hand.If you are unable to use our self-service online booking system, you can take advantage of our "done for you" service and
call us on 0800 1 337 987
instead.
To help you find the clinic, here's a helpful link: Ealing: Microsuction Ear Wax Removal Ealing Clinic on Google Maps.
Appointment Booking
Due to high demand, private ear wax removal is by appointment only. You can go to our ear wax removal ealing online booking calendar, or click the button below. Please have your credit or debit card to hand to confirm your booking.
Video: What Happens In An Ear Wax Removal Ealing Appointment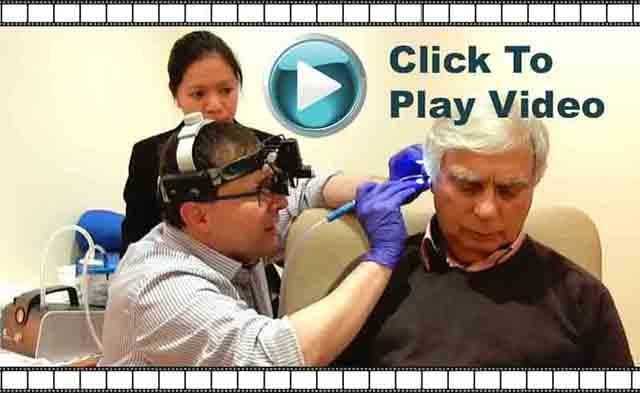 Parking
Parking is free in the residential side streets in the Pitshanger area. There is also 30 mins / 1 hour / 2 hours / all day free parking on Pitshanger Lane, depending on the bay - please check the parking signs carefully.
Public Transport
Tube: Nearest tube stations are Ealing Broadway and Hangar Lane. They are both approximately 20 minutes' walk from the clinic.
Buses: The E2, E9 and N7 buses stop on Pitshanger Lane. The nearest stops are Pitshanger Library (Stop SM) and Harrow View (Stop SK)
Ealing: Microsuction Ear Wax Removal Ealing In London W5 Location and Directions
You can find our West London Microsuction Clinic in Ealing on Google Maps here.
You can get directions to our West London Microsuction Clinic in Ealing here.
Nearby Clinics
In North West London HA5, we have our Pinner Microsuction Ear Wax Removal Clinic in North West London HA5.
In Central London NW1, we have our Baker Street Microsuction Ear Wax Removal Clinic In Central London NW1.
Visit our booking page to book your West London microsuction ear wax removal appointment, and say goodbye to the discomfort of ear wax.
Our Ealing microsuction ear wax removal clinic also serves clients in Hanwell, Acton, Chiswick, Brentford, Hayes, Greenford, Wembley, White City, Hounslow, Osterley, Twickenham, Putney, Richmond, Earlsfield, Feltham, Southall, West Drayton, Northolt, Olympia, Fulham, Isleworth, Battersea, Hammersmith, Heston, Perivale and Uxbridge.
Ealing Micro Suction Clinic Prices
WE HAVE ENDEAVOURED TO KEEP OUR PRICES LOW, WHILST IMPLEMENTING GOLD STANDARD COVID-SECURE MEASURES. PRICES DISPLAYED IN OUR BOOKING SYSTEM ARE AUTOMATICALLY CALCULATED AND INCLUDE ALL APPLICABLE DISCOUNTS.
One or Both
Online Price (including £10 self-service discount)
One ear (or wax too impacted / no wax)**
From £44, or Hear Now, Pay Later* from around £8/week
Both ears (or wax too impacted / no wax)**
From £59, or Hear Now, Pay Later* from around £10.50/week
Upgrade from one to both ears
Upgrade from one to both ears not available due to strict covid-secure guidelines on appointment times
*Hear Now, Pay Later
It can sometimes be difficult to budget for unexpected health costs. That's why we have teamed up with Laybuy to give the option of spreading our booking fee over 6 weeks.
**Consultation only (no wax present)
If no wax is present, we will provide ear care advice and/or a complementary hearing test (possibly at a later date), whichever our clinician deems appropriate
**Consultation only (wax too impacted)
If wax is too impacted, our clinician will remove as much as they consider is safe, and provide advice on an appropriate wax softening regime

36 hours notice required for alterations and cancellations or NO refund will be given.

Non-attendance is charged at the full price.

Thank you.
How Prices Are Calculated
| Price Adjustment | Adjustment Amount (+/-) |
| --- | --- |
| Online Self-Service Discount | - £10 |
| Advance Booking (8 - 14 days) | - £5 |
| Advance Booking (15 days or more) | - £10 |
| Off Peak (Normally before 12:00pm) | - £5 |
| Local Promotional Discount | - £Varies by location - See Booking System |
| Peak (5:00pm - 6:00pm) | + £10 |
| Peak (6:00pm onwards) | + £20 |
| Saturday | + £10 |
| *Hear Now, Pay Later | Total discount reduced by £4 |
Saturday Microsuction Appointments
Private ear wax removal London on Saturday
 is available at our out of hours clinic in Baker Street NW1 from 10am until 5pm.We also run a Saturday microsuction ear wax removal clinic in Oxford typically once a month.Please try to book by 5.30pm on Friday evening, as Saturday microsuction appointments are very popular. You can book online on the day as we sometimes have same day ear wax removal appointments available.
Book online now
to reserve your private microsuction appointment in one of our Saturday clinics.
[global_variable variable_name="HOMEVISITPRICES"]
Find your nearest clinic:
Follow the link to find the nearest Microsuction Ear Wax Removal Clinic to you.
About Microsuction
Microsuction is a process of removing ear wax from the ear canal using a medical suction pump, suction wand and either surgical loupes or a special ear endoscope. The ear endoscope is a surgical instrument with fibre optic fibres around the circumference and a solid lens down the middle. The fibre optic fibres carry light into the ear canal, so that the procedure can be viewed by the practitioner on a small screen. Microsuction is by far the most effective method of earwax removal. Tradionally only performed in ENT clinics due to the size and weight of the equipment, it can now be performed by appropriately trained individuals in smaller clinics due to portable suction pumps and visualisation equipment now available. Our network of London Microsuction clinics provides a choices of locations.
How Safe Is Micro Suction?
Micro suction introduces no water into the ear and only removes wax from the ear using gentle suction. The Micro Suction Practitioner uses a pair of operating microscopes known as "loupes" and a bright light to see into your ear canal in great detail. This way, he or she can see exactly what they are doing inside your ear. The suction wands are sterile, so the risk of infection is virtually nil. For these reasons, microsuction is considered the safest method of removing wax from the ear. The process can be quite noisy, up to around 100dB(A). The HSE recommends that to avoid permanent hearing damage, you shouldn't be exposed to continuous levels of noise at 100dB(A) for longer than 15 minutes without hearing protection.
About Ealing
Ealing is the birthplace of the famous Ealing Studios and Ealing Blues Club, and a thriving base for film-makers and musicians. The annual Summer Festival draws large crowds and top performers. Ealing's parks are plentiful, independent shops thrive, and residents are spoilt for choice with top quality restaurants and pubs.
(from https://www.getwestlondon.co.uk/all-about/ealing)
Ealing In Depth
Ealing is a district of west London, England, located 7.9 miles (12.7 km) west of Charing Cross. It is the administrative centre of the London Borough of Ealing, and identified as a major metropolitan centre in the London Plan.
Ealing was historically a rural village in the county of Middlesex and formed an ancient parish. Improvement in communications with London, culminating with the opening of the railway station in 1838, shifted the local economy to market garden supply and eventually to suburban development.
As part of the growth of London in the 20th century, Ealing significantly expanded and increased in population, becoming a municipal borough in 1901 and has formed part of Greater London since 1965. It now forms a significant commercial and retail centre with a developed night time economy. Ealing has the characteristics of both suburban and inner-city developments. Ealing's town centre is often colloquial with Ealing Broadway, the name of both a rail interchange & a shopping centre.
Most of Ealing, including the commercial district, South Ealing, Ealing Common, Montpelier, Pitshanger and most of Hanger Hill fall under the W5 postcode. Areas to the north-west of the town centre such as Argyle Road and West Ealing fall under W13 instead. A small section north-east of the town centre, near Hanger Hill, falls under the NW10 postcode area. The population of Ealing (not including Hanwell and Northfields), comprising the Ealing Broadway, Ealing Common, Cleveland, Walpole and Hanger Hill wards, was 71,492 in the 2011 census. The area of Hanwell is strongly associated with Ealing; however, it is a separate district with its own postcode.
With the exception of driving animals into London on foot, the transport of heavy goods tended be restricted to those times when the non-metalled roads were passable due to dry weather. However, with the passing of the Toll Road Act, this highway was gravelled and so the old Oxford Road became an increasingly busy and important thoroughfare running from east to west through the centre of the parish. This road was later renamed as Uxbridge Road. The well-to-do of London began to see Ealing as a place to escape from the smoke and smells. In 1800 the architect John Soane bought Payton Place and renamed it Pitzhanger Manor, not to live but just for somewhere green and pleasant, where he could entertain his friends and guests. Soon after (1801) the Duke of Kent bought a house at Castlebar. Soon, more affluent Londoners followed but with the intention of taking up a permanent residence which was conveniently close to London. The only British prime minister to be assassinated, Spencer Perceval, made his home at Elm House. Up until that point, Ealing was mostly made up of open countryside and fields where, as in previous centuries, the main occupation was farming.
The most important changes to Ealing occurred in the 19th century. The building of the Great Western Railway in the 1830s, part of which passed through the centre of Ealing, led to the opening of a railway station on the Broadway in 1879, originally called Haven Green. In the next few decades, much of Ealing was rebuilt, predominantly semi-detached housing designed for the rising middle-class. Gas mains were laid and an electricity generating station was built. Better transport links, including horse buses as well as trains, enabled people to more easily travel to work in London. All this, whilst living in what was still considered to be the countryside. Although much of the countryside was rapidly disappearing during this period of rapid expansion, parts of it were preserved as public parks, such as Lammas Park and Ealing Common. Pitzhanger Manor and the extensive 28 acres (110,000 m2) grounds on which it stands, was sold to the council in 1901 by Sir Spencer Walpole, which had been bought by his father the Rt. Hon. Spencer Horatio Walpole and thus became Walpole Park.[7]
It was during the Victorian period that Ealing became a town. This meant that good, well-metalled roads had to be built, and schools and public buildings erected. To protect public health, the newly created Board of Health for Ealing commissioned London's first modern drainage and sewage systems here. Just as importantly, drinking fountains providing wholesome and safe water were erected by public prescription. Ealing Broadway became a major shopping centre. The man responsible for much of all this was Charles Jones, Borough Surveyor from 1863–1913. He directed the planting of the horse chestnut trees on Ealing Common and designed the Town Hall, both the present one and the older structure which is now a bank (on the Mall). He even oversaw the purchase of the Walpole estate grounds and its conversion into a leisure garden for the general public to enjoy and promenade around on Sundays.